Dallas Buyer's Club' Golden Globe win comes after 6-year break
Jenelle Riley
Associate Editor, Features
@JenelleRiley
Jared Leto has a coffin in the living room of his Los Angeles home. Perhaps even stranger, he's not sure exactly where it came from. "I think it's from 'Mr. Nobody,' " he says, referring to the recently released film he shot back in 2007. "But I can't really remember."
The "coffin table" is stacked with hundreds of books, from classics like Homer's "The Odyssey" to works by Stephen King.
Leto's eclectic taste in titles, along with his wide collection of unique art from all over the world — including a sculpture inspired by the Moloko Bar in "A Clockwork Orange" — reflects a man and artist who is not easy to pigeonhole.
His co-star in "Dallas Buyer's Club" instantly discovered that about Leto when they first came face to face: "I met a performance artist," Matthew McConaughey says. "He is not someone bound by one certain craft — acting, singing, dance. He is a performer, whether it's a reality, a slight of hand, a spirit, or a rock 'n' roll show. He is thoughtful, committed, understands the context, shows up to do it, not discuss it. He performs."
In 2013, Leto showed up in a big way, after a six-year absence from movie screens. During that time, the 42-year-old hyphenate was busy focusing on his flourishing music career as the frontman for the popular band 30 Seconds to Mars.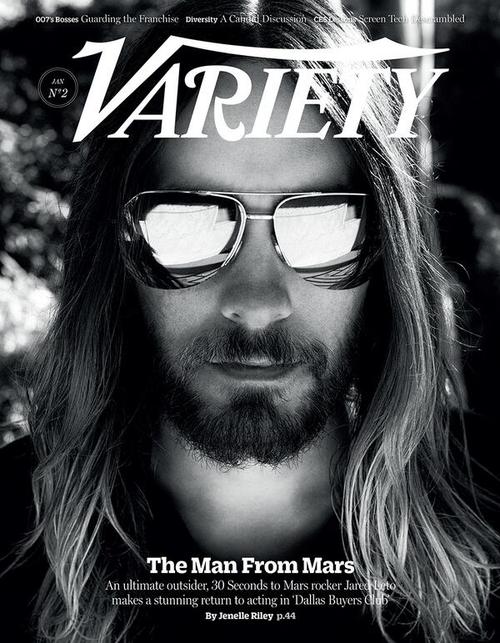 Since the premiere of "Dallas Buyers Club" at the 2013 Toronto Film Festival, buzz has been building for his performance as Rayon, a transgender woman dying of AIDS. Leto dropped down to 114 pounds for the role, but the performance is more than a physical transformation.
Feminine, flirty and fierce, Rayon is a gentle soul who nonetheless isn't afraid to go toe-to-toe with her homophobic business partner, Ron Woodruff (McConaughey). Leto is so convincing as a woman trapped in a man's body that in one scene, when Rayon dresses as a man to speak to her father, the image of Leto in a business suit is both uncomfortable and jarring.
The role won Leto the Golden Globe for supporting actor; prior to that, he had racked up a handful of critics' awards in addition to a SAG nomination.
Yet, one week before the Globes ceremony, Leto wasn't willing to even contemplate his chances of winning.
"I'm the dark horse, man. They don't invite me to these things unless they have to!" He laughs, but he's not entirely joking. "I always feel that way. I always feel like the outsider. Even now."
Even after his Globe win, Leto remains self-effacing. "Well, obviously I didn't prepare a speech," he says backstage.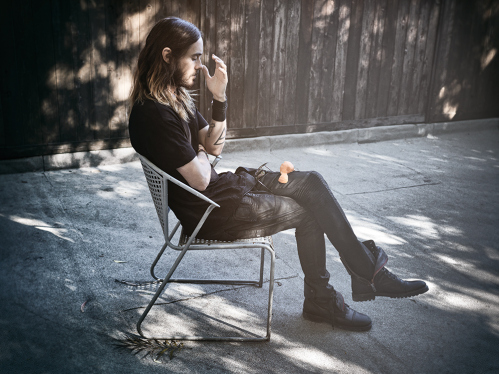 When Oscar noms are announced Jan. 16, many consider Leto a lock to win the prize. But what's most important to him is that his movie is reaching an audience. "I've made a lot of small films, and they don't always work," he admits. "But when they do, it's wonderful to celebrate it."
After more than 20 years in the business, Leto knows about having films not quite work. The Louisiana native and his brother Shannon (a bandmate in 30 Seconds to Mars) were raised by his mother, Mary, an artist. From a young age, Leto had aspirations to be a filmmaker, but he left the School of Visual Arts in New York City in 1992 to move to L.A. "My flawed thinking was, 'I bet I can get a job as a director if I get a job as an actor first!' " he recalls with a laugh.
For many, Leto will always be known as bad boy Jordan Catalano from the 1994 TV series "My So-Called Life," which launched his career as an actor. Stardom followed, including high-profile romances with actresses Scarlett Johansson and Cameron Diaz. Onscreen, there were memorable turns in "American Psycho," "Requiem for a Dream" and collaborations with David Fincher ("Fight Club," "Panic Room") and Terrence Malick ("The Thin Red Line"). But there were also missteps, such as Oliver Stone's bloated "Alexander" epic, or small pictures that didn't find an audience, such as "Chapter 27," for which he gained more than 60 pounds (which gave him gout) to play John Lennon's killer, Mark David Chapman.
"I have largely made independent films, small films, and these movies can break your heart," Leto admits. "You're not just putting your work into them, you're pouring your heart and soul. And when they don't meet expectations, it can break your heart and your spirit."
That heartbreak was part of the reason Leto hadn't made a film since "Mr. Nobody," a beautiful but offbeat sci-fi film in which Leto plays a man who ages from 9 to 118. He was also engrossed in handling lead vocals, guitar, bass and keyboards for 30 Seconds to Mars.
Not just an actor's vanity band, 30 Seconds to Mars has achieved worldwide acclaim critically and commercially, "much to my surprise and the surprise of many others," he notes. With hit singles such as "Kings and Queens" and "This Is War," the band has sold more than 10 million albums. "I was touring and making albums and directing musicvideos and commercials," Leto says. "We never thought any of this would happen the way it has. It's something you don't even dare dream about, because the conceit of that dream wouldn't even feel right."
There was also time spent battling a $30 million lawsuit that the band's record company, Virgin/EMI, served when 30 Seconds tried to switch labels. But Leto channeled the experience into the documentary "Artifact," which he appears in and directed under the pseudonym Bartholomew Cubbins, a Dr. Seuss character. (Another reason Leto's been so busy: "When you have two or three alter egos, your time is limited," he deadpans.) "Artifact" premiered at the Toronto Film Festival in 2012, winning the People's Choice Documentary prize, and was released on VOD Dec. 3, 2013, by digital entertainment firm FilmBuff.
But what mostly kept Leto off the screen was, simply, life. "I talked to Terrence Malick about it once. He took 20 years off from movies and said, 'Life just happened,'" recalls Leto. "He was writing, and one day he put his pen down and 20 years had passed."
During this time, Leto notes that his agents at CAA, Mick Sullivan and Jim Toth, were extremely patient. "They deserve an award just for sticking around for almost six years making absolutely no money — which in Hollywood is a real sign of faith." He is quick to add that CAA also handles his music booking, "so I think they're very happy."
Leto believes his hiatus actually made him a better actor. "I think I needed to go away in order to have something to say again," he notes. By the time the script for "Dallas Buyers Club" came his way, he instantly fell for the writing and the character of Rayon. "I said to myself, 'Let's go make this film and see if there's anything left in there for me. Is it going to be another experience that falls short? Am I going to have my heart broken again?' It's kind of like a relationship: Let me see if I can love again."
"Dallas Buyers Club" had been in development for more than 10 years, with a string of directors and actors attached. Things finally fell into place when McConaughey and helmer Jean-Marc Vallee ("C.R.A.Z.Y.," "The Young Victoria") signed on. Gael Garcia Bernal was originally cast as Rayon, but left the project shortly before shooting began. Rich Delia, who cast the film alongside Kerry Bardem and Paul Schnee, says Leto's name came up just weeks before shooting was set to begin.
"We said, 'Look, he's been focused on his music, but if ever someone was to come back for a role, this is the kind of role that someone wants to come back for,'" Delia notes. "Rayon is such a beautiful character, and someone like Jared would see her beauty and portray that character with a strength and integrity without judging her."
A Skype call between Vallee and Leto, who was in Berlin on tour, provided the director with a surprise. When Vallee signed onto the call, he found Leto already in character. "He was dressed as a woman, as Rayon, with makeup, for this 20-30 minute call," the helmer says. "I thought he was going to stop the masquerade after five minutes, but he didn't. He was talking as Rayon and creating the character in front of me."
Says Leto: "I remember connecting, and reaching out to pick up some lipstick. I put it on and I could kind of see his jaw drop. I undid this big winter jacket and had a pink furry sweater on and pulled it down over my shoulder."
Vallee admits to being stunned. "He was even hitting on me. He'd say, 'Oh, Jean-Marc, I love your voice and your eyes; you're so masculine!' " he says with a laugh. Vallee says he got off the call and told the producers and McConaughey, "I think we found the guy."
The role was originally written as more of a flamboyant drag queen type, but Leto pushed to play Rayon as a transgender woman. "I thought Rayon would be more of a guy, dressed in pants sometimes," Vallee admits. "But every time he came to set, I'd say, 'All right. Jesus, you're sexy, man.'"
"Dallas Buyers Club" was the first script that Leto had looked at at that stage of development — and so far the last. "I haven't read a script since," he admits. Unlike many actors who might be eager to capitalize on the moment, Leto says he's taking his time: "I'm not actively looking."
Ironically, he says that he is now dealing with people who know him as a rock star-turned-actor. "There are people who think 'Dallas Buyers Club' is my first movie," he says. "I've become a musician looking for an acting job, rather than an actor looking to make an album."
He does plan to direct a movie within the next two years, and says he's looking at several projects. But will he act again? "Yes," he declares. Then a long pause. "But it's got to be great. It's got to be a genius director, an impeccable script and an absolutely incredible role with a team of wonderful people. Those are the parameters. And it happens."